Project Description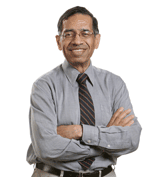 Regulation of Autoimmunity

Immunology of peptide antigens
P.O. Box 5015
100 Perth Drive London, Ontario, Canada N6A 5K8
Professor Emeritus, Department of Microbiology and Immunology; Scientific Director, CIHR – Institute of Infection and Immunity, Robarts Research Institute, Western University
After post-doctoral training at Liverpool University in England, Dr. Bhagirath Singh joined the Department of Immunology at the University of Alberta, Edmonton in 1973 and became full Professor in 1986. In 1992 he was recruited as Professor and Chair of the Department of Microbiology and Immunology and co-director of the Immunology group at the Robarts Research Institute at the University of Western Ontario (UWO), London, Ontario. From 2001-2009 he served as the founding Scientific Director of the CIHR Institute of Infection and Immunity (CIHR-III).
Dr. Singh's laboratory has done seminal work in the regulation of autoimmune responses and autoantigens involved in type 1 diabetes. This work had a major impact in our understanding of the role of microbial agents and in the formulation of the Hygiene hypothesis for protective immunity. He has published over 200 articles in peer-reviewed journals.
Books
Jaworski, M.A., Molnar, G.D., Rajotte, R.V. and Singh, B. (Eds.) The Immunology of Diabetes Mellitus.  Excerptia Medical Intl.  Congress Series #717.  Elsevier Science Publishers, Amsterdam, 1986.
Singh, B.  Editor, Adv. Mol. & Cellular Immunology. Vol. 1A and 1B. JAI Press, Greenwich, Conn. 1993.
Edited Journals 2005-2011
Nikoopour E, Sandrock C, Huszarik K, Krougly O, Lee-Chan E, Masteller EL, Bluestone JA and Singh B. Cutting edge: Vasostatin-1 derived peptide ChgA29-42 is Antigenic Epitope of diabetogenic BDC2.5 T cells in NOD mice. J. Immunol. 2011; 186: 3831-3835
Huszarik K, Wright B, Keller C, Nikoopour E, Krougly O, Lee-Chan E, Qin HY, Cameron MJ, Gurr WK, Hill DJ, Sherwin RS, Kelvin DJ, Singh B. Adjuvant Immunotherapy upregulates Beta cell Regenerative factor Reg2 in the Pancreas of Diabetic Mice. J Immunol 2010; 185: 5120-5129.
Kilgannon P, Novak Z, Fotedar A, Singh B. Junctional diversity prevents negative selection of an antigen-specific T cell repertoire. Mol Immunol 2010; 47: 1154-1160.
Nikoopour E, Schwartz J, Huszarik K, Sandrock C, Krougly O, Lee-Chan E, Singh B. Th17 polarized cells from NOD mice following mycobacterial adjuvant immunotherapy delay type 1 diabetes. J Immunol 2010; 184: 4779-88. Selected by Faculty of 1000 Biology (http://f1000biology.com/article/id/3071956/evaluation).
French MB, Loeb MB, Richardson C, Singh B. Research preparedness paves the way to respond to pandemic H1N1 2009 influenza virus. Can J Infect Dis Med Microbiol 2009; 20:e63-e66.
Zhang X, Alnaeeli M, Singh B, Teng YT. Involvement of SOCS3 in regulation of CD11c+ dendritic cell-derived osteoclastogenesis and severe alveolar bone loss. Infect Immun. 2009; 77: 2000-2009.
Stephens TA, Nikoopour E,Rider BJ, Leon-Ponte M, Chau TA,Mikolajczak S, Chaturvedi P, Lee-Chan E, Flavell RA,Haeryfar SM, Madrenas J, Singh B. Dendritic Cell Differentiation Induced by a Self-Peptide Derived from Apolipoprotein E. J. Immunol. 2008; 181: 6859-6871.
Nikoopour E, Schwartz JA, Singh B. Therapeutic benefits of regulating inflammation in autoimmunity.  Inflamm Allergy Drug Targets. 2008; 7: 203-210.
Marleau AM, Summers KL, Singh B. Differential Contributions of APC Subsets to T Cell Activation in Nonobese Diabetic Mice. J Immunol. 2008; 180:5235-49.
Mukherjee R, Chaturvedi P, Lee-Chan E, Singh B. Exogenous CLIP localizes into endocytic compartment of cells upon internalization: Implications for antigen presentation by MHC class II molecules. Mol Immunol 2008; 45: 2166-2176.
Bocksch L, Rider BJ, Stephens T, Dai E, Liu L, Diao H, Viswanathan K, Munuswamy-Ramanujam G, Singh B, Lucas A. C-terminal apolipoprotein E-derived peptide, Ep1.B, displays anti-atherogenic activity. Atherosclerosis.2007; 194: 116-124.
Summers KL, Marleau AM, Mahon JL, McManus R, Hramiak I, Singh B. Reduced IFN-a secretion by blood dendritic cells in human diabetes. Clin Immunol 2006; 121:81-89.
Qin HY, Mukherjee R, Lee-Chan E, Ewen C, Bleackley RC, Singh, B. A novel mechanism of regulatory T cell-mediated downregulation of autoimmunity.  Int Immunol. 2006; 18:1001-15.
Singh B. Taking down Goliaths: new vaccines may spell the end for Ebola, Marburg and Lassa virus infections. Healthc Q. 2005; 8:20-22.
Mukherjee R, Wagar DA , Stephens TA,  Lee-Chan E, Singh B. Identification of CD4+ T cell specific epitopes of islet-specific glucose-6-phosphatase catalytic subunit-related protein (IGRP) – a novel beta cell auto antigen in type 1 diabetes. J Immunol. 2005; 174: 5306-15.
Mahamed DA, Marleau A, Alnaeeli M, Singh B, Zhang X, Penninger JM, Teng YT.  G(-) Anaerobes-Reactive CD4+ T-Cells Trigger RANKL-Mediated Enhanced Alveolar Bone Loss  in Diabetic NOD Mice. Diabetes. 2005; 54:1477-1486.
Leon-Ponte M, Kirchhof MG, Sun T, Stephens T, Singh B, Sandhu S, Madrenas J. Polycationic Lipids Inhibit the Pro-Inflammatory Response to LPS. Immunology Letters 2005; 96: 73-83.
Teng YT, Mahamed D, Singh B. Gamma Interferon Positively Modulates Actinobacillus actinomycetemcomitans-Specific RANKL+ CD4+ Th-Cell-Mediated Alveolar Bone Destruction In Vivo. Infect Immun. 2005; 73: 3453-61.
Book Chapters: 2005-2011
Singh B. Role of MHC antigens and Immunoregulation in Graft Survival. In Current Issues in Transplantation: Proceedings of the XVI Annual Conference of Indian Society of Organ Transplantation (ISOT-2005). Jaipur, Rajasthan, India. Ed. L.C. Sharma, Chapter 8, 2007:109-114.
Cellular basis for the activation of regulatory T cells in autoimmune diabetes by microbial agents: CD4 helper T cells modulate both immunity and autoimmunity. We are exploring their role in the pathogenesis and prevention of type 1 autoimmune diabetes (T1D). There is a reciprocal relationship between regulatory Treg cells, which prevent tissue inflammation and promote self-tolerance, and proinflammatory T cells involved in the disease. In vivo helper T cells appear to have greater plasticity in switching from effector to regulatory phenotype. We are investigating Treg and IL-17 producing Th17 cell subsets following islet autoantigens and mycobacterial adjuvant immunization in prevention of T1D.
Dendritic cell in the modulation of autoimmunity in Type I diabetes: Induction and progression of type 1 diabetes (T1D) is dependent on antigen presenting cells, particularly dendritic cells (DC). Different subsets of DCs are critical for the induction and effector phase of the disease. The goal of this project is to use DCs to prevent and modulate T1D using the NOD mouse model of T1D. Further, to correlate the data from the mouse model of T1D with human subjects, we characterize and assess peripheral blood DCs from subjects with T1D. In line with our goals, our lab has discovered a novel peptide fragment of apolipoprotein E (ApoE), termed Ep1.B, which induces the differentiation of monocytes into DC subset. We are exploring the potential application of Ep1.B in modulating immunity.
Regeneration of insulin producing islet beta cells in pancreatic tissue: There is considerable evidence that insulin producing beta cells in the pancreatic islets can regenerate through formation of new islet-like cell clusters containing beta cells. We previously showed diabetes prevention and islet preservation in NOD mice by treatment with mycobacterial preparations such as complete Freund's adjuvant (CFA) or BCG. Several recent studies have confirmed regeneration of beta cells in the islets and following prevention of autoimmunity. The specific aim of our work is to investigate the expression of various transcription factors particularly the regenerating (Reg) gene family in islet beta cell regeneration in the pancreas of NOD mice to functionally reverse T1D.