Project Description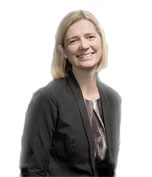 Professor
Joint Appointment with Psychology and School of Communication Sciences and Disorders, Western University; Director – Brain and Mind Institute
Ingrid Johnsrude obtained a BSc from Queen's University and a PhD in clinical psychology (neuropsychology) from McGill University in 1997, where her supervisor was Prof. Brenda Milner. Following a two-year postdoctoral fellowship at University College London (UK), she was recruited to the Medical Research Council's Cognition and Brain Sciences Unit in Cambridge (UK). In 2004 she moved (back) to Queen's University, where she was appointed Canada Research Chair (Tier II) in Cognitive Neuroscience and established the Cognitive Neuroscience of Communication and Hearing (CoNCH) lab. She and her lab moved to Western University in 2014, where she is now Western Research Chair and full professor. Ingrid and her trainees use behavioural and neuroimaging methods to study the processes by which sound is transformed in the brain into meaningful language, in both young and older individuals. In 2009 she received the prestigious E.W.R Steacie Memorial Fellowship from NSERC. She has authored or co-authored 99 published peer-reviewed research articles, 1 textbook, 2 encyclopedia entries, and 13 book chapters. She has an h-index of 41, and her research contributions have been cited over 14600 times (Google Scholar).
Being able to communicate with other people in noisy environments is essential to maintaining social and family relationships, participating in society, and engaging in leisure/recreational activities with others. People with even mild hearing impairments report increased difficulty hearing speech in background noise and appear to be at increased risk of negative psychosocial health outcomes. As people age, and the fidelity of the auditory input deteriorates, top-down cues to speech comprehension become increasingly important.
Our primary research interest is to identify sources of information that young and older people can exploit to help them predict what they are about to hear, to facilitate their understanding of degraded, noisy speech. For example, one current study explores how the familiarity of a voice can aid in understanding speech when a competing talker is present. In other studies, lab members are using functional magnetic resonance imaging (fMRI) and electroencephalography (EEG) to study the brain organization supporting speech comprehension, speech production, and hearing. See website (www.conchlab.ca) for more information.
I teach courses in perceptual psychology and hearing at the undergraduate level, and in cognitive neuroscience methods at the graduate level.