Project Description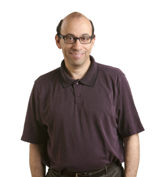 Philosophy of Medical Science

Psychiatric Rehabilitation
210-100 Eileen Stubbs Avenue
Dartmouth, Nova Scotia B3B1Y6
Canada
Professor; 
Department of Psychiatry and School of Occupational Therapy, Dalhousie University
Abraham (Rami) Rudnick is a philosopher and a psychiatrist. His academic interests center on the ethics, epistemology and metaphysics of health care and related research and on interventions – particularly psychosocial – for people with serious mental illness such as schizophrenia. Abraham has published about dialogue in bioethics, capacity to make decisions about treatment, and health as self-organization, among other topics. Some of Abraham's most recent work challenges widely accepted notions such as (medical) invasiveness and standard principles of bioethics. He is the founder of the Canadian Unit of the International Network of the UNESCO Chair in Bioethics (Haifa), which focuses on development, evaluation and dissemination of bioethics education. Abraham's work is motivated by the belief that philosophical inquiry is beneficial for health care practice, research, education and administration, both in relation to mental health and in relation to other areas of health.
My research program continues to explore philosophical and empirical questions related to health care practice and research.
Under one of my research grants, three broad questions are being explored. First, to what extent does dialogue with patients occur in their bioethics consultations? More specifically, to what extent do patients have voice and choice in these consultations? Second, what types of dialogue occur in these consultations, e.g., classified according to informal logic or argumentation theory? Third, to what extent does dialogue in these consultations differ across patients with and without mental health problems (hypothesizing that patients with mental health problems will have less voice and choice due to stigma and to their mental impairments)?
A second broad area of inquiry of mine addresses social justice in relation to people with mental illness and is supported by various granting agencies, such as the Tri-Council and others; it is conducted largely in collaboration with other investigators such as Principal Investigator Cheryl Forchuk (e.g,. SSHRC 2011-2016). Part of this project addresses poverty and social inclusion; I am the lead on the ethics research in this project. As part of this research, analysis of the fit of principlist bioethics and alternative or complementary ethics frameworks to matters of social justice in relation to people with mental illness is in progress.
Other areas of my research address health and its correlates as self-organization, based on process philosophy and insights from theoretical biology, whereupon organisms – and their health or lack of it – are complex systems that self-regulate, hence ill health is arguably disrupted self-regulation.
Much empirical research that I conduct evaluates novel psychosocial interventions for people with mental illness, such as combining supported education with supported employment for this population; ethics and social justice analyses are conducted as part of this research.
Rudnick A. The black box myth: artificial Intelligence's threat reexamined. International Journal of Extreme Automation and Connectivity in Healthcare, 1(1): 1-3, 2019.
Rudnick A. Moral responsibility reconsidered: integrating chance, choice and constraint. International Journal of Philosophy, 7(2): 48-54, 2019. http://www.sciencepublishinggroup.com/journal/paperinfo?journalid=204&doi=10.11648/j.ijp.20 190702.11
Chahal A, Rudnick A. Selecting digital health technologies for validation and piloting by health care providers: a decision making perspective from Ontario. International Journal of Technology Assessment in Health Care, 35(1): 1-4, 2019.
Rudnick A. Aligning practice, policy and education with evidence in Complementary and Alternative Medicine. Online Journal of Complementary & Alternative Medicine, 1(3): 1, 2019. https://irispublishers.com/ojcam/pdf/OJCAM.MS.ID.000513.pdf
Taillefer S, Nolan D, Rudnick A. Other specified trauma- and stressor-related disorder: challenges in differential diagnosis and therapeutics. Psynopsis, 41(2): 13-14 (and 29), 2019.
Zafar N, Rotenberg M, Rudnick A. A systematic review of work accommodations for people with mental disorders. Work, 64(3): 461-475, 2019. https://content.iospress.com/articles/work/wor193008
Montgomery P, Wuest A, Forchuk C, Smith-Carrier T, Momodu S, Jeng M, Rudnick A. Social inclusion as freedom for persons living with mental illness. Canadian Journal of Community Mental Health, 38(1): 23-25, 2019.
Reglitz M, Rudnick A. Internet access as a right for realizing the human right to adequate mental (and other) health care. International Journal of Mental Health, 49(1): 97-103, 2020.
Smith-Carrier T, Montgomery P, Mossey S, Shute T, Forchuk C, Rudnick A. Erosion of social support for disabled people in Ontario: an appraisal of the Ontario Disability Support Program (ODSP) using a human rights framework. Canadian Journal of Disability Studies, 9(1): 1-30, 2020. https://cjds.uwaterloo.ca/index.php/cjds/article/view/594/863
Rudnick A, Hazelton L. An annual creative writing competition in mental health humanities for students in Canada: a descriptive report and thematic analysis. Health Humanities Journal, 8(1): 20-23, 2020.
Rudnick A. Social, psychological and philosophical reflections on pandemics and beyond.
Societies, 10(2): 42(1-4), 2020. https://www.mdpi.com/2075-4698/10/2/42/htm; https://doi.org/10.3390/soc10020042
Rudnick A. Social influence on medicine: an analysis and a proposal. International Journal of Arts, Humanities and Social Science, 1(1): 47-50, 2020. https://ijahss.net/assets/files/1591781200.pdf
Rudnick A. Remote psychosocial rehabilitation (rPSR): a broad view. Journal of Psychosocial Rehabilitation and Mental Health, 7(2): 119-120, 2020.
Daigle P, Rudnick A. Shifting to remotely delivered mental health care: quality improvement in the COVID-19 pandemic. Psychiatry International, 1(1): 31-35, 2020.  https://www.mdpi.com/2673-5318/1/1/5/htm#