Project Description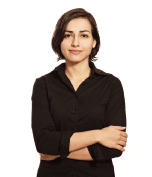 RESEARCH AREAS:
CONTACT:
Rotman Institute of Philosophy
Western University
Stevenson Hall 4135
London, Ontario, Canada N6A 5B8
Assistant Professor
Department of Philosophy, Western University
Angela Mendelovici is a philosopher with research interests in the philosophy of mind. Angela's recent work investigates the relationship between mental representation and consciousness, and the various roles that the notion of mental representation is thought to play. Her work is partly motivated by the suspicion that there are multiple notions of mental representation that we need in order to fully understand mental phenomena.
Angela Mendelovici's research explores the nature of mental representation. In particular, she is developing a version of the phenomenal intentionality theory, the view that mental representation is determined by phenomenal consciousness. Other aspects of her work concern the relationship between mental representation and other features of mental states, such as tracking relations and functional roles. She also works on the representational and phenomenal aspects of pain, emotions, and colour experience.
Phil 4410/9611: Contemporary Issues in Philosophy of Mind
Phil 2400: Introduction to Philosophy of Mind
Phil 4410/9661: Mental Representation
Phil 3410: Advanced Topics in Philosophy of Mind
Phil 4410/9605: Concepts
Phil 2260: Introduction to Philosophy of Language
Autumn, 2011, Foundations Seminar: Mental Representation, The Australian National University (graduate seminar)
Fall, 2010, Philosophy of Language, The University of Western Ontario
Fall, 2010, Problems in Philosophy: Mental Representation, The University of Western Ontario (graduate/undergraduate seminar)