Project Description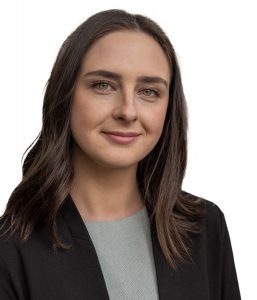 Doctoral Student;
Health and Rehabilitation Sciences Program, Western University
I am currently a Masters student in the Health and Rehabilitation Sciences program at Western University. A graduate of the University of Toronto, I completed my Honours Bachelor of Arts degree in the Ethics, Society and Law program. I was fortunate to have participated in the inaugural cohort of the Vic One Paul Gooch Program for Philosophy and Ethical Citizenship during my time at Victoria College. My philosophical interests are in bioethics and political philosophy. In particular, the many "grey areas" found in pediatric ethics. My graduate research is supervised by Dr. Maxwell Smith and I serve on the executive of Western's HELP (Health Ethics, Law and Policy) Lab.
Outside of academia, I am passionate about getting young women involved in political participation (in its many forms) and enjoy spending time with my dog June.
My research investigates how health care providers in pediatric palliative care programs identify and navigate ethical challenges in practice. Specifically, characterizing what it means to approach these challenges with "humanity" while reconciling the legal and ethical obligations (or norms) of their profession. I am keen to explore the implications this research may have for assessing the suitability of artificial intelligence in pediatric palliative care, promoting discussions of cultural competency in care delivery and addressing deficiencies in current models of care used in pediatric health settings.
I hold a Research Fellowship jointly funded by the Rotman Institute and Western's School of Occupational Therapy. This fellowship supports my contributions to multiple research projects at the intersection of law, ethics and health science research here at Western (see projects tab). I also contribute research support to a bioethics community of practice group assessing ethical implications of recent changes to MAiD (Medical Assistance in Dying) legislation in Ontario.
Project Title: "Clarifying the best interests standard in children's medical decision making: Toward a consistent and reliable guide for practice"
Primary Investigator: Dr. Jacob Shelley
Role: Graduate Research Fellowship
---
Project Title: "Listening to children in health matters: Examining the intersection of family-centered care, best interests, and children's agency"
Primary Investigator: Dr. Gail Teachman
Role: Graduate Research Fellowship
Fall 2020– Teaching Assistant, Health Policy, Western University
Summer 2021– Teaching Assistant, Health Program Evaluation, Western University