Project Description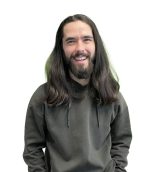 Contemporary French Philosophy

Early 20th French Epistemology & Philosophy of Mathematics

19th Century German Philosophy
Doctoral Student 
Centre for the Study of Theory and Criticism, Western University
Avery Dawson is a doctoral student at Western University supervised by Dr. Antonio Calcagno. Originally from the United States, Avery received his BA in Sociology and BA in Philosophy (Summa Cum Laude) at Arizona State University. Two years later, he received his MA in Philosophy (Summa Cum Laude) in Los Angeles at Loyola Marymount University. His current research focuses on the philosophy of the event, conceptual models of French mathematics and physics, and the Foucaultian concepts of power and subject formation. He is particularly interested in the creative moments in which events transform the effectivity of concepts according to mathematical structures and microphysical models.
Broadly, his research centers on problematizations within the history of conceptual systems and their political applications as events. He situates his dissertation under the following premises: 1) present political and social issues are historically nuanced and require understanding that history to adequately respond to them, 2) that history is informed by specific conceptual models, and 3) those models offer systematic solutions to the local problems they address and are worth analyzing to respond to the global problems they reflect. Models, like a Lautmanian mathematics, Kuhnian scientific revolution, or a Serresian microphysics, offer a dynamic description of the conditions by which phenomena—including concepts and subjects—are constituted. Applying the method of genealogy to pinpoint local instances of conceptual mutation and modeling that transformation on a microphysics or mathematics allows us to not only locate and structurally trace the consequences of these moments but also faithfully, point by point, orient ourselves in response (as subjectivizable bodies) to them.
"The Microphysics of Subject Formation: Analyzing Anti-Oedipus through Serres and Foucault." Angelaki (pending) September 2022.
"Nietzsche's Creative Hermeneutics: On Will to Power as Interpretation." Philosophia (June 2022). https://doi.org/10.1007/s11406-022-00539-3
Moving Forward: The Existential Motion of the Self in Kierkegaard's Pseudonymous Works" The Heythrop Journal, vol. 63, no. 1. January 2022. https://doi.org/10.1111/heyj.13057
Review of Alan Rosenberg and Joseph Westfall (eds.), "Foucault and Nietzsche: A Critical Encounter," Frontiers of Philosophy in China, June 2020, Vol. 15 (2): 330-335, DOI 10.3868/s030-009-020-0018-3
"Rupture, Event, Being: Heidegger's Contribution to the Philosophy of the Event"
E-Conference: Heidegger Circle Graduate Meeting House
2022, September 30, Zoom
"Peering Beyond the Limit: Indirect Communication and Subversive Critique in Zhuangzi"
Conference: Académie du Midi, "Critique and Subversion"
2018, May 20-26 in Alet-le-Bains, France
"Peering Beyond the Limit: Indirect Communication and Subversive Critique in Zhuangzi"
Conference: Comparative and Continental Philosophy Circle
2018, April 5-7 in Bath, Somerset, United Kingdom
"The Summum Bonum: Questions Concerning the Highest Good in Kant's Critique of Practical Reason"
Colloquia: Graduate Philosophical Society
2017, September 13 at Loyola Marymount University
Fall 2022, Humanity, Humanities, Humanism, Inhumanity, Western University (TA)
Fall 2021 – Winter 2022, Egyptian Art and Architecture, Western University (TA)
Spring 2018, Ethics, Loyola Marymount University (TA)
Fall 2017, Symbolic Logic, Loyola Marymount University (TA)
Fall 2017, Ancient Greek Philosophy, Loyola Marymount University (TA)
Fall and Spring (Winter) 2014-15, History of Social Thought, Arizona State University (TA)