Project Description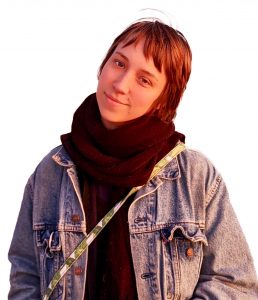 Moral Psychology
Doctoral Student;
Department of Philosophy, Western University
I am a doctoral student in philosophy at Western University. I moved here from California after completing BAs in Philosophy and English at California State University. My research is centrally in the area of moral psychology. I am interested in understanding what conditions have led us to our current social arrangements and how we can transform those conditions to avoid harm and lead to deeper ways to thrive. Most of my work centers on the concepts of interdependence, vulnerability, justice, gender, queerness, and friendship.
In addition to my research, I am also the Gender Equity Chair on the Executive Committee for PSAC Local 610 Union of TAs and Post-Docs. My involvement in labor activism is an extension of my appreciation for justice, cooperation, and mutual aid.
My current research focuses on rebutting evolutionary arguments for normative biological determinism about gender. I am interested in showing that these arguments are unsuccessful and, instead, point towards what we can learn from our evolved capacity to understand and live out the principles of justice and equity. In addition to this project, I am also involved in research at the intersection between social justice and AI.
"Equality in Parental Leave Benefits for Adoptive Parents", Impact Ethics. Online Blog Post; June 2019.
"Time to Attach: The Need for EI Attachment Benefits"; Co-Author. Produced for Ontario's Adoptive Parents Association and the Adoption Council of Canada; May 2019.
Philosophy 2010: Introduction to Philosophy, Western University, Fall 2020-Winter 2021
Philosophy 2077G: Gender and Sexuality, Western University, Winter 2020
Philosophy 2700F: Introduction to Ethics and Value Theory, Western University, Fall 2019
Philosophy 2250 Introduction to Logic, Western University; Fall 2018-Winter 2019
Philosophy 2715G: Health Care Ethics, Western University; Winter 2018
Philosophy 2500G: Introduction to Theory of Knowledge, UWO; Fall 2017
Tutor for Sentential and Predicate Logic; CSUSB, Phil. Dept. 2015-2016