Project Description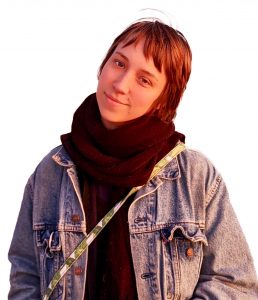 Moral Psychology
Doctoral Student;
Department of Philosophy, Western University
I am a doctoral student in philosophy at Western University. I moved here from California after completing BAs in Philosophy and English at California State University, San Bernardino. My research is primarily in the area of feminist moral psychology. Most of my work centers on the concepts of interdependence, complicity, justice, gender, queerness, friendship, and solidarity.
In addition to my research, in 2020-21 I served as Gender Equity Chair on the Executive Committee for PSAC Local 610 Union of TAs and Post-Docs and continue to be involved with my union. My passion for labor activism is an extension of my appreciation for justice, interdependence, and mutual aid.
My current research focuses on analyzing complicity in systemic and interpersonal social harms and also on understanding solidarity as a means for resistance to oppression. I am also working on a project about epistemic interdependence and self-trust/self-respect and on a collaborative project about AI, algorithms, and social injustice.
Brossard, B. Forgetting Items: The Social Experience of Alzheimer's Disease. Indiana University Press, 2020. ISBN: 9780253044983 (Book Review); February 2021.
"Equality in Parental Leave Benefits for Adoptive Parents", Impact Ethics. Online Blog Post; June 2019.
"Time to Attach: The Need for EI Attachment Benefits"; Co-Author. Produced for Ontario's Adoptive Parents Association and the Adoption Council of Canada; May 2019.
Philosophy 2010: Introduction to Philosophy, Western University, Fall 2020-Winter 2021
Philosophy 2077G: Gender and Sexuality, Western University, Winter 2020
Philosophy 2700F: Introduction to Ethics and Value Theory, Western University, Fall 2019
Philosophy 2250 Introduction to Logic, Western University; Fall 2018-Winter 2019
Philosophy 2715G: Health Care Ethics, Western University; Winter 2018
Philosophy 2500G: Introduction to Theory of Knowledge, UWO; Fall 2017
Tutor for Sentential and Predicate Logic; CSUSB, Phil. Dept. 2015-2016