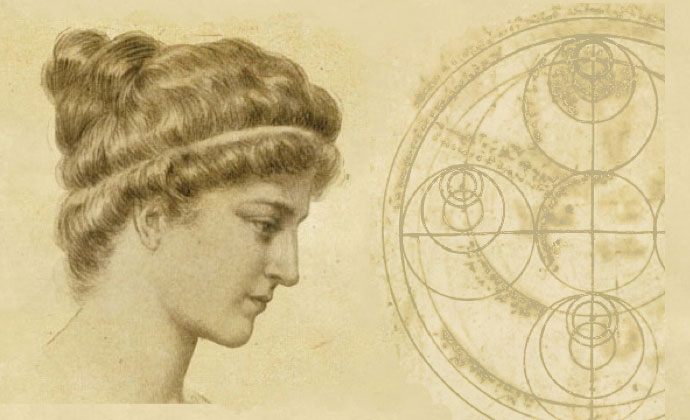 In 2012, the Rotman Institute of Philosophy provided Rotman Doctoral Entrance Scholarships, valued at $10,000, to two incoming PhD students with a proposed research focus related to philosophy of science. Rotman Doctoral Entrance Scholars are selected on the basis of exceptional academic merit, high research potential, and a record of engaging the public through service and academic outreach. Melissa Jacquart, a philosopher interested in cosmology and science education, was awarded the Rotman Doctoral Entance Scholarship last Fall. I recently spoke with Melissa about her interests and the projects she has been working on over the past year.
Andrew Peterson: Tell us about some of the work you have been doing since you took up studies at the Rotman Institute.
Melissa Jacquart: First, I'd like to thank you for taking the time to interview me. I really enjoyed reading the interviews with yourself and Yann Benétreau-Dupin last year. I thought they were a fantastic way to learn about those holding the Rotman Scholarships, and what kind of research grad students are doing here in the Rotman Institute.
As is the case with most first-year PhD students, a lot of my time has been taken up by my coursework.  This year I took courses on egalitarianism, philosophical issues regarding the nature of symmetries in physics, our first-year proseminar course, the philosophy of mathematics, the history of 20th century philosophy of science, and a philosophy of biology course focusing on determinism, chance, explanation, and reduction. There are a couple of papers I'm hoping to keep working on from these classes.  One thing I'm quite grateful for is the fact that a lot of the professors here at Western really push the graduate students to try to write term papers that could be conference presentations or worked up into something publishable. I'm also a TA for a full-year Critical Thinking course.
I'm working with the Rotman Event Planning and Outreach Committee (REPOC), along with other Rotman graduate students, to establish two types of Rotman Institute K-12 Outreach programs. One program will involve working with K-12 students through outreach activities designed and run by graduate students. The other involves working with K-12 teachers on developing strategies that they can use to promote HPS learning in the classroom.
My primary research interest is in philosophy of cosmology.  Since last summer I've taken part in a reading group with Prof. Chris Smeenk, two other graduate students, and a visiting scholar in which we survey various research topics in philosophy of cosmology.
AP: A central mandate of the Rotman Institute is to philosophically "engage the public". As an example of this, you recently organized a Rotman event for a group of young women from a local secondary school who were interested in learning more about science and philosophy. Can you tell us more about this event, and reflect on its importance — both in terms of the Rotman mandate, and the importance of opening philosophy of science to young women?
Melissa Jacquart: I helped to organize an event with an organization called "Canadian Association for Girls in Science", which is "for girls by girls" with chapters across Canada. Their purpose is to promote, educate, and support interest and confidence in STEM among girls ages 7-16. The London CAGIS group contacted the Rotman Institute and the philosophy department, hoping that we might organize an event for the girls to learn a bit about what philosophers of science do, and to get the girls thinking about how reasoning is used in science. We had about 12 girls attend and it was a really fun event, not only for the girls, but for myself and for the other Rotman members who helped out.  I also organized another activity back in February with a local London school's gifted and talented program. And next academic year I hope to organize more of these outreach events.
Part of the Institute's vision is to promote public engagement and philosophical reflection on scientific issues. The way that I want to help work towards this goal is through these types of K-12 outreach activities.  As I mentioned, I'm currently working to help create two types of Rotman Institute K-12 Outreach programs. My hope is to establish an outreach program that works with K-12 students through outreach activities designed and run by Rotman graduate students.  I'm also helping another graduate student, Yann Benétreau-Dupin, with his half of the K-12 outreach program, which is aimed at working with K-12 teachers interested in using HPS to help teach science.  Working with the teachers will be great, since that will allow for a longer, more lasting impact.
And the graduate student outreach group will be just as important. The natural sciences do these types of K-12 outreach activities all the time. I see these philosophy outreach activities as a means by which we can promote critical thinking skills early on in the student education experience. For a lot of people, the first time they have the opportunity to be exposed to philosophy is in university. I was lucky enough to have a "Theory of Knowledge" course my senior year of high school. By exposing them to philosophy early on, we can introduce students to the subject and get them interested in philosophical questions sooner. The earlier we can get people to realize the importance of thinking critically about their own lives as well as thinking about their relationship with science, well, I think that long-term this can lead to a more scientifically literate society. Any really, improving scientific literacy though critical thinking skills is important for everyone. I've written a bit on this before on the Rotman blog in a series on HPS and science education. (Anyone interested in reading more on this should definitely check out that series.)
One of the main reasons I think opening up philosophy of science to young women is so important is for similar reasons as the CAGIS group— I want to help promote, educate, and support interest in philosophy of science among girls. Philosophy, like many of the STEM fields, has an underrepresentation of women (and other minority groups).  Promoting the discipline though these types of outreach activities can help by giving them an opportunity to engage with philosophical inquiry. When you understand and can think critically about what scientists do, how they come to conclusions, and how they create and support their arguments, it also allows someone to have a sense of self-ownership of science and scientific practice.
AP: Indeed, scientific literacy is a central aspect of the Rotman Institute's mandate. Our audience may not know that you also have previous experience with this while working with the US National Science Foundation. Could you tell us about this — namely, how you brought the skills cultivated at the NSF to bear on your philosophical interests?
Melissa Jacquart: Let me first say just something about the 2-yea
r position I held. From July 2009 – July 2011 I worked at NSF for the Social, Behavioral and Economic Sciences (SBE) directorate as a Science Assistant for the Ethics Education in Science and Engineering(EESE) program, Methodology, Measurement, and Statistics (MMS) program, and Science, Technology, and Society (STS) program. It was an absolutely fantastic opportunity and experience for me. As a Science Assistant, I assisted with all aspects of the grant proposal process. I worked on everything from initial intake of the proposals, assisting with proposal review panel meetings, to providing assistance to program officers and management in overseeing scientific progress on awards, and preparing highlights on completed awards. I also prepared data and outcome reports on scientific portfolios for the Foundation, for the United States Congress, and for the general public. So, clearly the experience provided me with valuable expertise for understanding of how the federal grant proposal process works.
My time at NSF helped me to truly appreciate the importance of interdisciplinary work and research, and that definitely has bearing on my current philosophical approach.  The three programs I worked for were some of the most interdisciplinary program in the Foundation. Getting to see, firsthand, all that fantastic research that comes from taking an interdisciplinary approach—bringing together the sciences, social sciences, historical, and philosophical methods—that really had an impact on me.
Working at NSF also left me with an understanding of the importance of answering the "So What?" question for my research. Why is my research, and what I'm doing important? NSF calls this the "broader impacts" criterion of a proposal.  I think it's a fundamental question to answer not only relative to your area of philosophy, but also to other philosophers, other disciplines, and the general public to some extent. I think it's crucial to recognize the need to go beyond just doing good research, and to be conscious of larger societal context your research fits into.
AP: You are also known among your colleagues as a talented philosopher of physics and cosmology. Could you briefly tell us about your research interests?
Melissa Jacquart: Much of my current research has been driven by my interest in the role of evidence in reasoning in cosmology, as well as in science more broadly. Over the last hundred years, the field of cosmology has made impressive progress as a result of the interaction between theory and observation. I think the current state of cosmology provides philosophers with a unique opportunity for investigation and research.
One topic I've spent some time looking at is underdetermination in cosmology, cases in which there is at least one other theory compatible with the empirical evidence.  Take, for example, how we obtained our FLRW models, which make up the standard model of Big Bang cosmology.  How did we get this model as the one that represents the structure of our universe? Well, it turns out that even if we had all possible observational data, we could not determine the structural features of our spacetime. So how did cosmologists get around this underdetermination problem? They had to make some assumptions along the way.
In order to be able to say something about the global structure of spacetime, we had to adopt a set of principles that pick out a class of models to work within. The Cosmological Principle, which assumes that the universe is homogeneous and isotropic, was selected both for historical reasons, and for the fact that it provides us with the simplest class of models to work with—the FLRW models.
The question then becomes why were the cosmologists justified in making this assumption, and how did they go about their reasoning for it? Well, in adopting the Cosmological Principle, cosmologists made theory-mediated inferences. Something similar happened when cosmologists discovered dark energy—they made theory-mediated inferences. What role evidential reasoning played in some of cosmology's big discoveries, and how cosmologists reason in their work is something I'm interested in looking at in more detail.
I'm also interested in looking specifically at how cosmologists use models, as well as what they think their models represent or are picking out in the actual structure of the universe. Much of the progress in cosmology relies on making assumptions, idealizations, or approximations. How cosmologists think about their models in practice, and how they use models as tools for information and understanding is something I want to look into as well.
AP: What are you currently reading in your field?
Melissa Jacquart: I've been reading a fair amount of literature on structural realism, particularly papers by Stathis Psillos and James Ladyman, as well as Christian Wüthrich's paper "Challenging the Spacetime Structuralist", and Christopher Pincock's "Mathematical Structural Realism".
I've also been reading papers on the role of approximations and idealizations in science—John Norton's paper, and some of Robert Batterman's work. I'm starting to dive into some of the modeling literature as well. Wendy Parker's papers on modeling and computer simulations in particular have been really interesting, and I just started Models as Mediators, edited by Mary Morgan and Margaret Morrison.
AP: What about outside your field, for leisure?
Melissa Jacquart: My leisure readings right now are some real guilty pleasures. I'm currently working my way though the A Song of Ice and Fire series (or better known as the Game of Thrones books), and the Buffy the Vampire Slayer Season Eight comics. My academic readings require me to really focus and concentrate, so these books are a really nice brain-break. I'm also reading Tina Fey's autobiography, Bossypants. I think Tina Fey and Amy Poehler are the best!
AP: Who, working in the field of Philosophy today, inspires you?
Melissa Jacquart: A lot of my inspiration comes from the female role models I've had in my life. As an undergrad at University of Wisconsin-Madison I had some wonderful female philosophy professors and a fantastic TA (Shannon Spaulding, now a professor at Oklahoma State University) who was quite influential in my choice to pursue a PhD in philosophy. There's a really great group of female graduate students and faculty here in our philosophy department as well. I really respect and admire them for their intelligence, creativity, perseverance, and leadership both in the department, and in the discipline.
AP: Is there someone outside the field of Philosophy who similarly inspires you?
Melissa Jacquart: While at NSF I had the opportunity to work with two amazing female program officers, Cheryl Eavey (still at NSF) and Kelly Joyce (now at Drexel University). They both have accomplished so much, and are well-respected academics in their fields. I feel really lucky to have had the opportunity to work for them, and to receive their advice and guidance. My younger sister and my mom are another big sources of inspiration in my life.  They work with such diligence in everything they do.