The month of March was packed with Rotman speaker events! Over the course of the month we hosted Jenann Ismael, Ned Block, Stathis Psillos, Julian Savulescu, and Laura Franklin-Hall as part of our annual speaker series. We also hosted a public panel discussion at Wolf Hall that included Françoise Baylis, David Edgell, Julian Savulescu, and Anthony Skelton (moderator). Please visit event pages to see videos from our very busy & exciting month!
In March we also announced the winner of our second annual philosophical photography contest. This year we received many more entries–making it very difficult to choose the winner! See the winning photo and several fantastic photos that were given honourable mentions. The contest was also featured in a post on Daily Nous.
Additional news from our members for the past month is listed below in alphabetical order.
Eunice Chan and Robert Corless co-authored a paper titled "Minimal height companion matrices for Euclid polynomials" that will appear in the Special Issue of Mathematics in Computer Science later this year. One of the figures from the paper, shown below, is of the pseudospectra of E8 of 10 logarithmically-spaced values of ε between 10-12 and 10-1.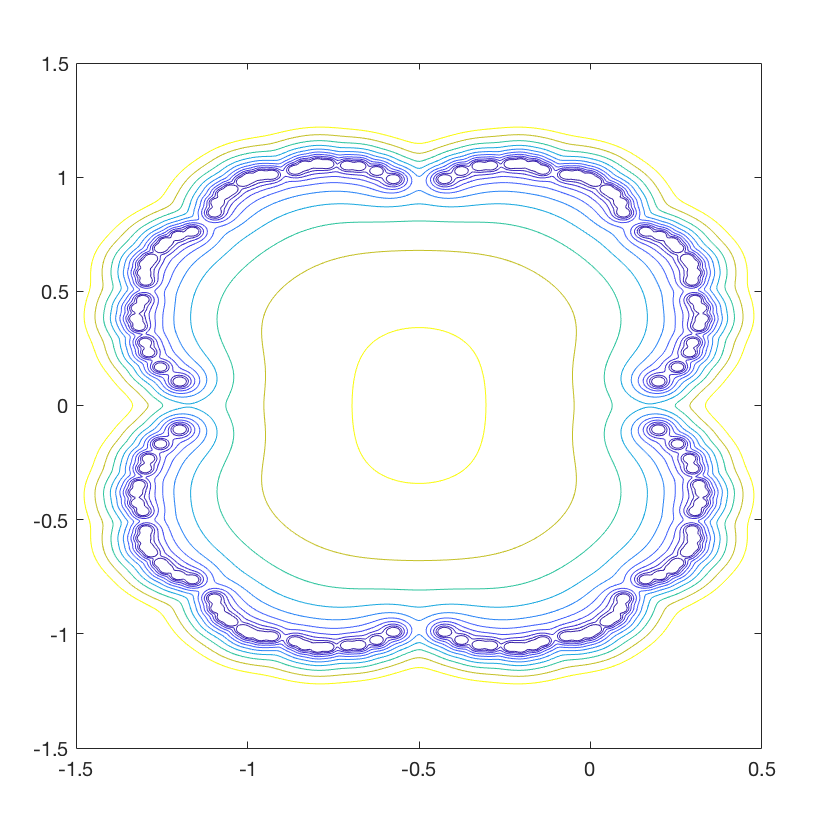 Michael Cuffaro has two upcoming presentations that were accepted this month: "Comparing Ernst Cassirer's and Grete Hermann's Views on Quantum Mechanics", at the Multilateral Colloquium on Kant and the Contemporary World, in Catania, Italy, October 2018, and "Employing Agent-Based Computer Simulations in Developing Theories of Distributive Justice" (with Molly Kao), at the Canadian Philosophical Association Annual Meeting, Montreal, Quebec, June 2018.
Michael Cuffaro, Markus Müller, and Ana Belen Sainz are co-organising a workshop on "Algorithmic Information, Induction and Observers in Physics," at the Perimeter Institute for Theoretical Physics, in Waterloo, Ontario, on April 9-13, 2018.
A new paper by Justin Donhauser titled The Dangers of Replacing 'Adaptation to Climate Change' with 'Resilient Solutions', came out in Ethics, Policy & Environment in March. Free e-prints are available via the preceding link.
Adam Koberinski was invited to the University of Geneva to give a talk on on his paper entitled "Problems with the Cosmological Constant Problem" on March 28 as part of the Beyond Spacetime Space and Time After Quantum Gravity speaker series. (This paper was awarded the 2017-18 Beyond Spacetime Essay Prize in the philosophy of quantum gravity.)
On March 10, Adrian Owen was included in an episode of CBC 'Quirks & Quarks about brain activity in comatose patients.
On March 12, Adrian Owen was special guest on CBC 'Ideas', in a segment about his book, Into the Gray Zone.
Adrian Owen was the Opening Keynote speaker at the 2018 Rotman Research Institute Conference: Traumatic Brain Injury and Concussion, held in Toronto on March 20th.
Prior to the panel discussion we hosted on March 14, Anthony Skelton and Julian Savulescu were interviewed on CBC afternoon Drive regarding ethical issues in human genetic modification.
Catherine Stinson published an article that was the March 23 cover story in the Globe and Mail's Opinion section, titled Deep learning: Why it's time for AI to get philosophical. The piece will be translated into Spanish for Revista de Occidente. Following it's publication, Catherine was interviewed for another article about AI, '2001: A Space Odyssey' turns 50: Why HAL endures, and she's been invited to speak at AI Toronto in June as part of a panel about "Algorithmic Ethics".
Jackie Sullivan was invited to give the 2018 Annual HPS Alumni Lecture on March 15 at the Department of History and Philosophy of Science, University of Pittsburgh.  (Jackie graduated from University of Pittsburgh in 2007.) Her talk was titled "Translational Cognitive Neuroscience: How Do We Learn From Animals?".
A book chapter by Valérie Therrien, "The Axiom of Choice as Paradigm Shift: the Case for the Distinction between the Ontological and the Methodological Crisis in the Foundations of Mathematics", will appear in the 2017 CSHPM Proceedings, has been sent to Birkhauser, and is in production.
Charles Weijer gave the opening, keynote speech at the Western Undergraduate Research Conference, titled "The ethics of neuroimaging after severe brain injury", on March 24, 2018.
Members of the ethics of pragmatic randomized controlled trials research group, Dean Fergusson and Charles Weijer, participated in a panel discussion on "Innovation and ethical considerations in clinical trial design" at the Clinical Trials Ontario Conference in Toronto on March 27, 2018. The annual conference attracts over 350 trialists and research ethics board members from across Ontario.