Stathis Psillos: Engaging Philosophy: Einstein on the Method of Science
15 October 2015, 3:00 pm

-

4:30 pm

EDT
ABSTRACT
---
Albert Einstein said that scientists are poor philosophers. Yet, he added that especially in periods of scientific revolutions, scientists should engage in philosophy and should not "surrender to philosophers the critical contemplation of the theoretical foundations" of science. In this talk I will aim to critically examine Einstein's views on the method of science by placing them within the context of his own historical narrative concerning the crisis of science in the beginning of the twentieth century and the emergence of his theories of relativity. I will stress that his key philosophical endeavour was to clarify the relation between theory and experience.
SPEAKER PROFILE
---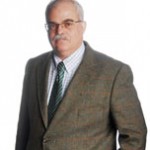 Stathis Psillos received his PhD in Philosophy of Science in 1994 from King's College London. Between 1993 and 1998 he was initially assistant editor and subsequently deputy editor of the British Journal for the Philosophy of Science. Between 1995 and 1998, he was a British Academy Post-Doctoral Fellow, at the Dept of Philosophy, Logic and Scientific Method, London School of Economics. Since 1998, he has been a Research Associate of the Centre for the Philosophy of the Natural and Social Sciences, London School of Economics. He joined the Dept of Philosophy and History of Science in the University of Athens, Greece, in 1999. He was among the founders of European Philosophy of Science Association and served as its first elected President (2007-2009). He is currently the editor of the journal Metascience. In 2008 he was elected member of l'Academie Internationale de Philosophie des Sciences (AIPS). In 2007, he was co-chair of the Programme Committee for the Philosophy of Science for the World Congress of Philosophy, which took place in Seoul, South Korea, in July 2008. In 2011, he organised the 3nd congress of the European Philosophy of Science Association, in Athens. In July 2011, he was the Springer Lecturer, at the 11th International IHPST Conference, held at the University of Thessaloniki. In July 2012 he was William Evans Visiting Professor in the University of Otago, New Zealand. In March-May 2013, he delivered the Cardinal Mercier Lectures in Philosophy in the Universite Catholique de Louvain, in Belgium. He is the author and editor of 8 books (two of which have been award-winning) and over 100 papers and reviews in learned journals and edited books, mainly on scientific realism, causation, explanation and the history of philosophy of science. He has delivered more than 120 talks in seminars and conferences around the world.
Read more about Stathis Psillos.
EVENT POSTER
---
Download a copy of the event poster and flyer.
EVENT VIDEO
---



This event is co-sponsored with the London Public Library and the Western Department of Philosophy.
Share This, Choose Your Platform!