Robert DiSalle: Gravity, Geometry, and Philosophy: 100 Years in Einstein's Universe
2 March 2015, 2:00 pm

-

4:00 pm

EST
One hundred years ago, in November 1915, Albert Einstein achieved his long-sought theory of gravitation: the General Theory of Relativity. In developing the General Theory, Einstein brought together ideas from philosophy, mathematics, and physics, to create a remarkable new conception of gravity, space, and time. His work is a model of the engagement between philosophy and science that is the main mission of the Rotman Institute of Philosophy. To celebrate the achievements of the 20th century's greatest philosopher-scientist, the Rotman Institute is pleased to announce Einstein@Rotman 2015 – a year-long program of activities for both scholars and the general public, centred around the stunning successes and enduring mysteries of Einstein's ideas.
ABSTRACT
---
In this inaugural lecture, you will learn how Einstein's philosophical reflections on space, time, and gravity transformed our view of the nature and structure of the cosmos.
SPEAKER PROFILE
---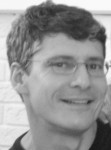 Robert DiSalle is a professor of philosophy at Western University, and the author of "Understanding Space-Time: The Philosophical Development of Physics from Newton to Einstein" (Cambridge University Press).
Read more about Robert Disalle.
VIDEO
---
Share This, Choose Your Platform!