Evan Fraser: Food in 2050: The Challenge of Feeding 9 Billion
25 February 2016, 2:00 pm

-

3:30 pm

EST
ABSTRACT
---
Creating food systems capable of sustainably, equitably, and nutritiously feeding 9 billion people while dealing with climate change is one of the 21st century's "Grand Challenges". Meeting this challenge is about more than just producing enough – indeed, we already produce enough for everyone, but more than a billion are overweight while almost a billion under nourished. To help feed the future we must not only produce the right kinds of food, but must also innovate on food processing and ingredients, make diets more nutritious, cut back on waste/emissions, reduce the amount of water and chemicals we use, and ensure that small scale farmers around the world have access to markets. To explore these issues, this talk will first present the factors that are driving changes in our food systems. Second, this talk will explore where some of these trends are heading.
SPEAKER PROFILE
---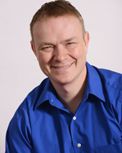 Evan started thinking about agriculture and food systems while spending summers working on his grandfather's fruit farm in Niagara. There, he watched his stock-broker grandmother rake in an unconscionable amount of money on commissions from her clients' investments while the farmers around were letting their crops rot because the cost of harvesting was higher than the cost of importing from the Southern US and Mexico. He decided, however, it was easier to write and talk about farming than actually try to make a living on it so passed on inheriting the family farm, opting instead for grad school. He did degrees in forestry, anthropology and agriculture at UBC and UofT. Since graduating, he worked in a policy institute with the Hon. Dr. Lloyd Axworthy, and began his academic career in 2003 in the UK where he worked on farming and climate change at the University of Leeds. He is the author of approximately 70 scientific papers or book chapters on these topics, has written for the Guardian.com, CNN.com, ForeignAffairs.com, the Walrus and the Ottawa Citizen, and has two popular non-fiction books about food and food security including: Empires of Food: Feast, Famine and the Rise and Fall of Civilizations that was published by Simon and Schuster and shortlisted for the James Beard Food Literature Award. Currently, he holds the Tier I Canada Research Chair in Global Food Security and is a fellow of the Royal Canadian Geographic Society.
Read more about Evan Fraser.
EVENT VIDEO
---
EVENT POSTER
---
Download a copy of the event poster.

This event is co-sponsored with the London Public Library.
Share This, Choose Your Platform!