Project Description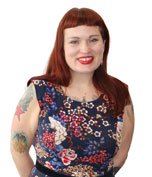 Doctoral Student;
Department of Geography, Western University
Rebecca Ellis is a Social Sciences and Humanities Research Council (SSHRC) Doctoral scholar and PhD candidate in the department of Geography at Western University. Her research project "Pollinator People: bees, weeds, and struggles for bee-friendly cities" examines the relationship between people and urban bees. She explores the question: how can we create a multi-species urban commons for people, bees, and even weeds? She received her BA in Anthropology from Western University in 2008. Her M.A., also in Anthropology at Western University, focused on the role of community gardens in rapidly gentrifying neighbourhoods. Rebecca is very concerned, both academically and as a community advocate, with the creation of socially just and ecologically regenerative cities. She facilitated an Ontario Trillium Foundation supported program, Sprouts, which engaged children and their parents in organic gardening in community gardens throughout London. She co-founded the Mantis Arts & Eco Festival which took place annually until 2016. Rebecca has sat on the boards of the London Co-op Store, the London Environmental Network and London Cycle Link. As a student researcher with Sustain Ontario she helped to create a policy discussion paper "Engaging Diversity in Community Gardens", delivered at the Bring Food Home conference in October 2017.
Bees – both managed and wild — are in global decline due to multiple factors such as pesticide use, monoculture agriculture, and climate change. In response, movements of people concerned with the health and wellbeing of bees have grown, especially in urban areas. My research seeks to answer this core question: More specifically, my research seeks to answer this core question: what obstacles and opportunities are encountered by urban bee advocates and how can their experiences and knowledges shape the ways in which urban spaces are created, used, and managed? And further, can the knowledges and experiences of urban bee advocates encourage urban dwellers to accept living in close proximity to bees in both public and private urban spaces? Lastly, what are the possibilities for creating a multi-species urban commons that includes bees and weeds?
To answer these questions, I believe there is an urgent need to better understand the obstacles and opportunities to urban backyard beekeeping, 'bee-friendly' gardening practices, and enhanced bee habitats in public spaces. This in turn entails the need to pay attention to both the differential municipal and provincial policies and regulatory frameworks that affect the presence and health of bees in Canadian cities, and to the factors affecting the attitudes of urban residents towards bees and bee habitats.
Drawing on literature in the fields of urban political ecology, feminist theory, urban entomology, and social class in public spaces, my research project will examine the relationship urban beekeepers and pollinator gardeners have with bees – and by extension 'weeds'. My research project will be situated in London, ON and Toronto and will involve a multi-sited, multi-species ethnography, coupled with in-depth content analysis of policy documents and media stories about urban bees and 'messy' gardening.
My ultimate hope is to contribute empirically- and theoretically-informed research to pressing conversations about policy options, public education, and advocacy about the changes needed to foster bee-friendly cities, what I see as a need to move from 'lawn people' to 'pollinator people'.
Articles
"Second thoughts about a third wave." Canadian Woman Studies/les cahiers de la femme. Special Issue: Young Women: Feminists, Activists, Girls, vol. 20/21, no. 4/1 (Winter/Spring 2001), pp.24-26
Book Chapters
"Homeschooling can be a feminist act".  In Homeschooling. Watkins H (ed.). Greenhaven: 2013, 70-79.
MA Thesis
M.A. Anthropology, University of Western Ontario
M.A. thesis: Sowing the Seeds of Democracy: community gardening in Parkdale, Toronto
Supervisor: Dr. Adriana Premat
Conference Presentations
"The Manor on the Hill:  class, colonialism, and the modern lawn" Presented at Society for Socialist Studies conference, Congress of the Social Sciences and Humanities, Toronto, O.N., May 31, 2017
"Save the (urban) bees: obstacles and opportunities in the creation of bee-friendly cities". Presented at Canadian Association of Geographers annual meeting, Toronto, O.N., May 30, 2017
"Permaculture for the People". Presented at Organizing Equality conference, hosted by the Faculty of Information and Media Studies, Western University, London, ON, March 24, 2017
"Save the bees, hurt the farmer? Neonicotinoid pesticide bans and the narratives of farmers ". Presented at Enviro Con, Western University, March 8, 2017
"Mothering as a Transformational Political Practice". Presented at Motherlode: A Complete Celebration of Mothering hosted by the Association for Research on Mothering (York University), Toronto, ON, October 27, 2006
Fall 2017, Research Methods in Geography, Geography, Western University (TA)
Winter 2017, Animal Geographies, Geography, Western University (TA)
Fall 2016, Global Food Systems, Geography, Western University (TA)
Fall 2010, Winter 2001, Food Policy and Trends in Canada, Sustainable Food Systems Program, St Lawrence College (Instructor)
Fall 2009, Introduction to Cultural Anthropology, General Arts and Sciences, Fanshawe College (Instructor)
Fall 2009, Introduction to Physical Anthropology, General Arts and Sciences, Fanshawe College (Instructor)
Winter 2009, Anthropology of the Caribbean, Anthropology, Western University (TA)