Our Vision
The Rotman Institute is committed to fostering and supporting dialogue and collaboration between philosophers and scientists, and building bridges between the humanities and the sciences.
We envision the Rotman Institute as a globally recognized centre of excellence, providing intellectual leadership and training in the investigation of ethical and epistemological issues in contemporary science. But we do not exist in an ivory tower. We engage philosophers, scientists, students and policy-makers around the world in the discussion about what science is good for and what is good for science. We also reach out to the community at large; through conferences, workshops and speakers' series, we promote public engagement, discussion and reflection on problems and issues relevant to society.
Click here to view the full Vision & Mission statement
Click here to view the Institute's Strategic Plan for 2011-2016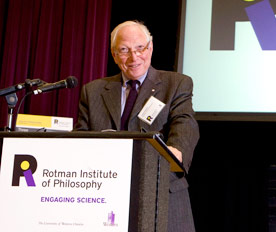 Joseph L. Rotman.