Faculty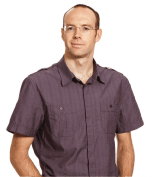 Department of Philosophy
Rotman Institute of Philosophy
Western University
Stevenson Hall 2130
London, Ontario, Canada N6A 5B8
Tel: (519) 661-2111 x87769
Fax: (519) 661-3922
Research Area:
Philosophy of Biology
Philosophy of Science
Environmental Philosophy
Biography:
Eric Desjardins is a philosopher interested in conceptual issues in biological sciences broadly construed. Eric's previous work focused on the problem of having multiple concepts of the gene in biology (MA thesis), and on the issue of historicity (i.e., the idea that history matters) in evolutionary and ecological sciences (PhD thesis). His most recent work focuses on the sources and the implication of historicity and unpredictability in applied fields of ecology like restoration ecology and conservation biology. The focus of his research is on how these disciplines have changed (conceptually and methodologically) in the last decades in order to accommodate the increasingly accepted view that nature is not balanced, but in constant flux. Eric is especially interested in the development of ecological management tools that goes beyond the human/nature dichotomy and deals with social-ecological systems.

Research:
My research program continues to explore philosophical questions related to the historicity and unpredictability of biological systems and relates it to issues of explanations in sciences and on the implications for applied fields of ecology.
In my previous research, I focused on the meaning and conditions required for history to matter in biological processes. This has led me to develop the notion of path dependence and explore its relation to irreversibility and unpredictability. More recently, I have been looking at the nature and status of historical explanations in biology. In what contexts do we seek historical explanations? What form these explanations take (narrative, counterfactual, etc)? And what status these explanations have in science?
More recently, I have been working on the implications that the conceptual revolution towards a non-equilibrium paradigm has for applied fields of ecology. Most contemporary ecologists have a completely different metaphysics of nature than their Masters who founded their field a century ago. Early ecology typically adopted the balance of nature metaphor, which conveys the idea that ecological systems exist at or near equilibrium, and they have inherent dispositions to return to this natural equilibrium after perturbation. On the other hand, most ecologists now accept that ecological systems can have multiple, dynamic equilibria (often called regimes), that perturbations can lead to unpredictable shifts from one regime to another, and that thresholds exists between these regimes, such that ecosystems can become locked into one regime or another until the dynamics of the system are fundamentally altered. This view of nature entails historicity. The initial conditions of ecosystems, the history of perturbations, the assembly history or species and or functional groups, and the evolutionary history of species composing ecological communities are all important factors that one has to consider when explaining why the system is in a particular state (instead of another). By extension, they are all important factors that ecologists and policy makers have to consider when developing management plans. This however raises important methodological difficulties. How can we access information about the past and how should we use it in making management decisions about ecological systems?
Another implication of the non-equilibrium view of nature is unpredictability. We often don't know what are the multiple regimes for an ecosystem and how the system will react to perturbations or management actions. The dominant response to the unpredictability issue has been to develop adaptive management tools. Ecologists now recognize the need to establish flexible goals, and to monitor managed ecosystems more closely in order to learn how they react to different actions (and perhaps gain useful general knowledge for similar projects). But adaptive management comes with serious epistemological and ethical problems. First, ecologists still need to gain a lot of information about ecosystems, information that is often impossible to obtain empirically. Should we grant carte blanche to management projects in which decisions heavily rely on abstract, unrealistic mathematical models? I am especially interested in the extent to which robustness analysis is (or could be) part of the solution to this problem. Finally, another related problem has to do with the moral justification of "experimenting" with ecosystems?
Publications:
Journal Articles:
Beatty, John and Eric Desjardins (2009), "Natural Selection and History," in Biology and Philosophy, 24:231-246.
Desjardins, Eric (2011) "Historicity and Experimental Evolution" Biology and Philosophy Volume 26, Issue 3, Page 339
Eric Desjardins, (forthcoming), "Reflections on Path Dependence and Irreversibility: Lessons from Evolutionary Biology." Philosophy of Science.
Doctorial Thesis
Desjardins, Eric (2009) Historicity in Biology, UBC Electronic Theses and Dissertations (ETDs) 2008+, http://hdl.handle.net/2429/14142
Invited Talks
"Unpredictability and Resilience Thinking in Ecological Management" 4th Annual GTA Symposium on History, Philosophy, and Social Studies of Science, Technology, and Medicine, Guelph (2011)
"Path Dependence and Evolutionary Irreversibility" Philosophy of Biology Workshop, University of Calgary (2011)
"Stability and Laws in Ecological Management," Workshop on The Governance of Nature, London School of Economics (2010)
"Four Accounts of Biological Historicity," UBC (2007)
Conference Presentations
"Reflections on Path Dependence and Irreversibility: Lessons from Evolutionary Biology" Philosophy of Science Association, Montreal (2010)
"Challenges for Animal Models: The Role of History and Environment" Integrating Complexity: Environment and History, ISHPSSB Off-year Workshop, UWO (2010)
"Ecological Restoration and Path Dependence" Canadian Society of History and Philosophy of Science, Monteral (2010)
"Precautionary Principle" Commentary, Canadian Philosophical Association Montreal (2010)
"Historicity as Path Dependence in Biology," Canadian Society of History and Philosophy of Science, Vancouver (2008)
"History Dependence in Ecology," International Society of History, Philosophy and Social Studies of Biology, Exeter (2007)
"Irreversibility and Historicity in Biology," Canadian Society of History and Philosophy of Science, Saskatoon (2007)
Projects:
Teaching:
W 2012, PHIL 2350, Philosophy of Biology, Western University
F 2011, PHIL 9989, Environmental Philosophy, Western University
F/W 2010-12, PHIL 1200, Critical Thinking and Reasoning, Western University
W 2011, PHIL 9210, The Problem of Historicity in Biology and Economics, Western University
F 2010, PHIL 4311, Problems in Philosophy of Science: Philosophy of Ecology, Western University
S 2008, PHIL 220, Symbolic Logic, UBC
W 2007 PHIL 125, Introduction to Scientific Thinking (Co-Instructor), UBC