Our Leadership
Several integrated levels of leadership ensure the success of the Rotman Institute of Philosophy.
The Director works in concert with the Institute's Steering Committee to ensure and promote the Institute's execution of its Vision and Mission.
The Steering Committee meets regularly with the Director to assist in planning, and contribute to the ongoing pursuit of the Institute's mission.
The International Advisory Committee is a team of exceptionally talented and experienced individuals who advise the Director and Steering Committee regarding future directions the Institute can take to fulfill its vision.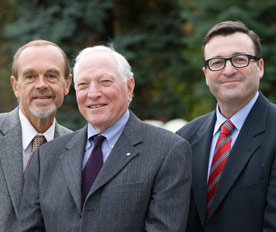 Left to Right: Philip Kitcher (Rotman Institute Lecturer 2010-11, Columbia University), Joseph Rotman (Institute Donor), Charles Weijer (Director, Rotman Institute 2008-2012)