Project Description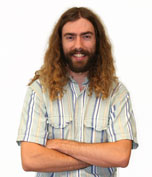 RESEARCH AREAS:
CONTACT:
Doctoral Student;
Department of Physics and Astronomy, Western University
Mark Robert Baker is a student of physics and applied mathematics at Western University. His academic interests center on developing procedures for obtaining manifestly gauge invariant classical field theories. Mark has written about the procedures for constructing unique Lagrangians in classical field theory, as well as past work in renewable resource and food science. Mark is motivated by the importance of self-consistent structure within complete sets of physical equations; such as the Lagrangian, equation of motion, energy-momentum tensor, and angular momentum tensor of a given model. He hopes to expand this work through his interest in the philosophy of science. Beyond his research, Mark is a passionate lecturer who teaches math and physics courses while completing his PhD.
My research interests are centered around the need for procedures in classical relativistic field theories. The idea is to determine the minimal amount of rules (postulates) such that a classical field theory can be uniquely determined. I am interested in determining a set of rules such that a unique set of models will follow from Noether's theorem. The basis for the rules are models such as covariant electrodynamics. Example rules are properties of these models such as manifest gauge invariance, including explicit gauge invariance of the Lagrangian, Lorentz invariance, and the presence of a field strength tensor in the theory. In my MSc thesis I used similar methods to recover electrodynamics from the set of all possible vector potential models using a set of rules, as well as higher order models that follow from these rules. Going forward I am trying to determine the set of rules for well known gravitational models.
Patents (Filed)
Suresh Narine, Laziz Bouzidi, Bruce Darling, Mark Baker, Shaojun Li and Ali Mahdevari, PCT Patent application (Filed April 15, 2013), Phase behaviors and properties of certain triacylglycerols and fatty acid methyl ester. Application number: PCT/IB2013/001465
Suresh Narine, Laziz Bouzidi, Bruce Darling, Mark Baker, Shaojun Li and Ali Mahdevari, US Provisional Patent application (Filed March 13, 2013), Phase Behavior and properties of Certain Triacylglycerols and Fatty Acid Methyl Esters. Application number: 61/780,817
Suresh Narine, Laziz Bouzidi, Bruce Darling, Mark Baker, Shaojun Li and Ali Mahdevari, US Provisional Patent application (Filed March 14, 2013), Polymorphism and Microstructure of Certain Triacylglycerols and Fatty Acid Methyl Esters. Application number: 61/785,418
Suresh Narine, Laziz Bouzidi, Bruce Darling, Mark Baker, Shaojun Li and Ali Mahdevari, US Provisional Patent application (Filed March 15, 2013), Phase Behavior and properties of Certain Triacylglycerols and Fatty Acid Methyl Esters. Application number: 61/863,137
Suresh Narine, Laziz Bouzidi, Bruce Darling, Mark Baker, Shaojun Li and Ali Mahdevari, US Provisional Patent application (Filed March 15, 2013), Phase Behavior and properties of Certain Triacylglycerols and Fatty Acid Methyl Esters. Application number: 61/863,105
Suresh Narine, Laziz Bouzidi, Bruce Darling, Mark Baker, Shaojun Li and Ali Mahdevari, US Provisional Patent application (Filed March 15, 2012), Certain Dimers as Crystallization depressants. Application number: 61/798,974
Publications (Accepted)
M Baker, L Bouzidi, SS Narine*, "Multi-Length-Scale Elucidation of Kinetic and Symmetry Effects on the Behavior of Stearic and Oleic TAGs. I. SOS and SSO", Journal of the American Oil Chemists' Society (2013)
M Baker, L Bouzidi, SS Narine*, "Multi-Length-Scale Elucidation of Kinetic and Symmetry Effects on the Behavior of Stearic and Oleic TAGs. II. OSO and SOO", Journal of the American Oil Chemists' Society (2014)
M Baker, L Bouzidi, SS Narine*, "Mitigating Crystallization of Saturated FAMES in Biodiesel II: The binary phase behavior of 2-stearoyl diolein (OSO) and methyl stearate (MeS)", Fuel (2015)
L Bouzidi, M Baker, N Garti, SS Narine*, "Elucidation of Kinetic and Symmetry Effects on the Viscosity and Flow Behavior of Stearic and Oleic Triacylglycerols", Journal of the American Oil Chemists' Society (2015)
Publications (Submitted)
M Baker, L Bouzidi, SS Narine*, "Statistical Modelling Program for Binary Thermal Phase Diagrams using Markov Chain Monte Carlo Methods", Journal of the American Oil Chemists' Society (2016)
Presentations (Accepted)
"Software tools for improved understanding of lipid crystallization", American Oil Chemists' Society Annual Conference (2014), United States, Texas, San Antonio
"Gauge invariant variational problems", Invited Colloquium Talk, Trent University (2015), Canada
"Einstein and gravitational waves", Invited Conference Talk, Astronomy at Taj (2016), India, Agra
"Einstein and gravitational waves", Invited National Science Day Talk (2016), India, Calicut
"Noether's Theorem", Invited Conference Talk, Winter School on Astronomy (2017), India, Hyderabad
MSc Thesis
"Gauge Invariant Lagrangian Formulation", MSc Thesis, Western University (2016)