Project Description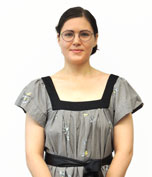 RESEARCH AREAS:
CONTACT:
M.A. Student;
Department of Philosophy, Western University
Jane is currently a Master's student in Philosophy at Western University. She received a Bachelor's degree from Trent University in Philosophy and a Bachelor's degree from Carleton University in Psychology. Her specializations include classical ethical theory, contemporary/applied ethics, ancient philosophy, and political philosophy.
At the Rotman Institute of Philosophy her areas of research interests include biomedical ethics and environmental ethics. In the area of biomedical ethics, her research interests include conscientious objection, particularly in defining conscience, the value of conscience within biomedical ethics, as well as the patient/physician relationship. Jane is also interested in researching the ethics concerning the allocation of scarce resources and how this scarcity can affect our most vulnerable populations both within Canada and internationally. Regarding environmental ethics, Jane is especially interested in researching the ethical frameworks which best motivate and contribute to the crossdisciplinary discussion on the resolutions of environmental problems.
Winter, 2017, Death, Trent University (grader)
Fall/Winter, 2016-2017, Introduction to Philosophy: Knowledge and Reality, Trent University (grader)