Martin Vezér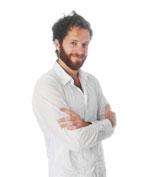 Doctoral Student
Department of Philosophy
Martin Vezér is a doctoral student in the Department of Philosophy at Western University,  working under the supervision of Professor Wayne Myrvold.  The working title of his thesis is Consilience, Robustness and Climate Change.  The dissertation investigates the epistemology of science by addressing questions about the strength and security of scientific knowledge regarding the causes and effects of climate change.  Before arriving at Western, Martin earned his BA (Hon) in Philosophy at York University, Toronto, Canada; and MSc in Philosophy of the Social Sciences at the  London School of Economics, London, England.
For more information, please visit: http://martinvezer.net/
Area of Specialization: Philosophy of Climate Science

Areas of Competence: General philosophy of natural and social sciences; moral and political philosophy; environmental philosophy
Conference Presentations
Talks
"Climate Science: Epistemology, Policy and Outreach."  Presented to the Toronto and Region Conservation Authority (TRCA) Research and Development Group, 22 December 2011 at TRCA Archetype House, Toronto, Ontario.
"Comparing Methodologies of Classical, Natural, Field and Computer Experiments Deployed in Climate Change Studies." Presented at The 14th Congress of Logic, Methodology and Philosophy of Science, Nancy, France, 19–16 July 2011.  (M.Vezer.CLMPS.2011.PDF) <http://www.clmps2011.org/fileadmin/user_upload/CLMPS_Program_11-07-2011.pdf>
"On Turner's Account of Gould, Cleland and the Role of Background Theories in Historical Inquiry." Presented at Field Science:  the 26 th Boulder Conference on the History and Philosophy of Science at the University of Colorado at Boulder, 22–24 October 2010. <http://www.colorado.edu/philosophy/chps/conference.htm/>
"Paleoclimatology and Historical Methodology." Presented at the Canadian Society for the History and Philosophy of Science (CSHPS) Conference at Concordia University in Montreal, Quebec, 28–31 May 2010. <http://www.yorku.ca/cshps1/pdf/Communique75FINAL.pdf>
Posters
"Climate Model Ensembles: Rationale and Challenges"  (with Wayne Myrvold).  Presented at the AGU Fall Meeting, San Francisco, California, 3–7 December 2012.  (http://www.agu.org/meetings/pdf/FM2012ProgramBook.pdf)
"Towards A Taxonomy of 'Experiments."'  Epistemology of Models & Computer Simulations:  National Conference,  Pittsburgh,  PA.,  1–3 April 2011.   (M.Vezer.EMS.2011.PDF) <http://www.modelingepistemology.pitt.edu/program/>
"Ontological and Epistemological Issues Regarding Climate Models and Computer Experiments." Presented at the AGU Fall Meeting, San Francisco, California, 13–17 December 2010.
"A Philosophical Defense of the Intergovernmental Panel on Climate Change (IPCC) Fourth Assessment Report (AR4) Bayesian Methodology."  Presented at the Philosophy Graduate Student Association at UWO; and at the American Geophysical Union Fall Meeting in San Francisco, California, 14–18 December 2009.  <http://www.agu.org/meetings/fm09>
Winter 2014 (UWO), Lecturer: Terrorism (PH 2083G)
Winter 2011 (UWO), Teaching Assistant: Theory of Knowledge (PH 2250) with Prof. Chris Smeenk.
Fall 2009–Winter 2010 (UWO), Teaching Assistant: Advanced Introduction to Philosophy (PH 1022E) with Prof. Samantha Brennan and Prof. John Nicholas.
Winter 2009 (UWO), Teaching Assistant: Big Ideas (PH 1130G) with Dr. Steven Bland.